We help to create and grow real estate wealth. Simple.
Since 2005, we've helped over 3,000 Australians achieve their financial goals.
Whether you're a first-time investor or have an established property portfolio, our award-winning team of financial experts have the experience to support you every step of the way.
To serve, grow, protect and preserve the financial future and legacy of families under our care.
To become the first choice for Australian families in creating, building and protecting their wealth – now and for generations to come.
Our values are the essence of our identity and vital to our success and growth. All our company policies and decisions are guided by these values, and ensure we remain dedicated to our clients and our industry.
We Listen
We set up an initial chat to talk through where you are financially, and where you want to be. One of our experts can even visit you at home. Throughout your journey with us, we'll listen to your needs and use our expertise accordingly.
We Strategise
There are plenty of routes to building your wealth – we create a comprehensive financial strategy personalised to your circumstances. All of our strategies are based on cutting edge market research and expert professional insights.
We Secure
Once your strategy is set, it's time for us to implement it. Reventon is made up of expert financial, property and accounting teams to provide you with an end-to-end service, all under one roof – easing stress and time concerns.
We Manage
If you have chosen to invest in property, we can help secure funding, find a property and complete the purchase. Our property management team can then help you find tenants and manage your rental property.
We Nurture
We protect your wealth through sustainable investments, risk insurance and personal tax reduction. Many of our clients return once their initial goal has been met, to work towards another one.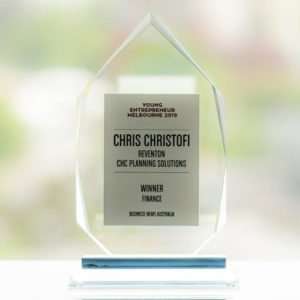 Chris Christofi has been named the winner of the Young Entrepreneur Award for Financial Services – for the second time in two years. The Melbourne Young Entrepreneur Awards are hosted by Business News Australia and recognise business leaders under 40 who are making an impact on the local and national economy.
&nbsp
Read more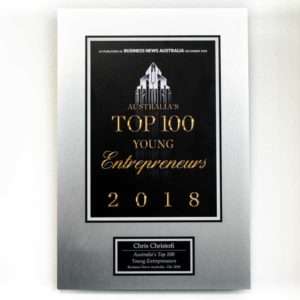 As described by Business News Australia, these young business-men and women are our future business leaders fuelling the nations vibrant business culture, making our local economies tick and inspiring us with their drive and innovation.
&nbsp
Read more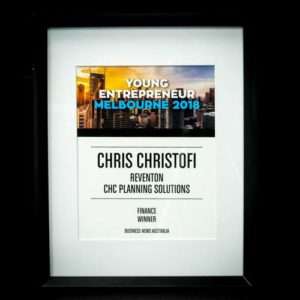 Hosted by Business News Australia, the Melbourne Young Entrepreneur Awards recognise business leaders under 40 making an impact on their local and national economies. Reventon is proud that our Founder and CEO, Chris Christofi received the Young Entrepreneur Award for Financial Services.
&nbsp
Read more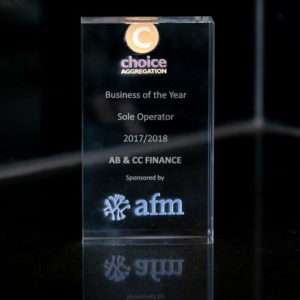 The Choice Aggregation Services Awards, hosted by one of Australia's largest brokers, are highly regarded in the financial sector for recognising exceptional service and talent. In 2018, Reventon was named Business of the Year for Best Practice, Customer Service and Volume Writers.
&nbsp
Read more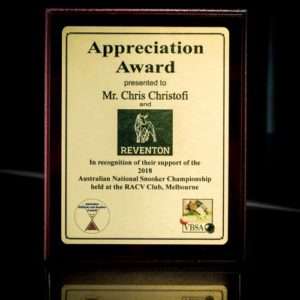 VBSA Appreciation Award
Reventon is a leading sponsor of the Australian Billiards and Snooker Council and the Victorian Billiards and Snooker Association. Our Founder and CEO Chris Christofi has been a longstanding ambassador of snooker, which has been recognised through the ABSC and VBSA Appreciation Award. President of the ABSC Frank Dewens noted, 'Reventon's sponsorship provides excellent opportunities for our players to earn more money from the game. This gives players the opportunity to compete and demonstrate their skills in a professional sense. The VBSA is always trying to grow our sport, and this is most helped by Reventon's sponsorship. Chris has been a massive support to the game'.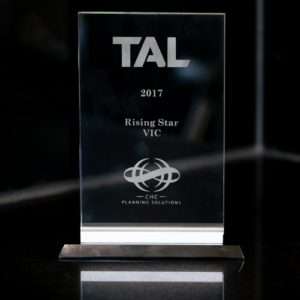 CHC Planning Solutions again submitted a large volume of new business. They continued to provide excellence to their clients by exceeding compliance requirements.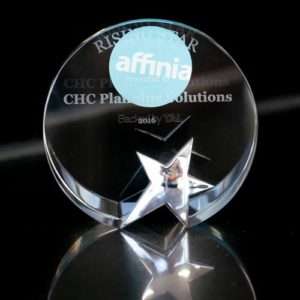 Affina Rising Star 2016 – CHC Planning Solutions
CHC Planning Solutions submitted the largest volume of new business whilst ensuring all compliance requirements and procedures are met and exceeded.
Even though we have been operating since 2005 and have helped over 3000 Australians, we have evolved so much as a business over this time, especially in the last year. COO Tim Graham talks about what we do as a business, who we can help, and how we do things a bit differently. #samesamebutdifferent
'We work tirelessly to create a positive experience for our clients as we help them to secure their financial future, so we're overjoyed to be recognised with these awards.
'We'll continue to secure opportunities for our clients and we send them our heartfelt thanks. Without them, this sort of recognition wouldn't be possible.'
Chris Christofi, Founder & CEO of Reventon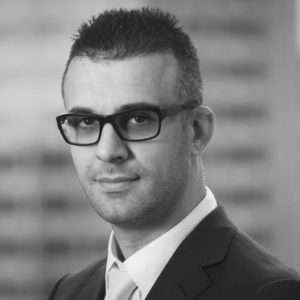 FREE APPOINTMENT.

Book a free consultation, no fees, no obligation, no pressure.
Reventon Raises Over $100K For Vinnies CEO Sleepout
Billie joined Chris again for his 4th Vinnie's CEO sleepout. After raising progressively more and more in previous years, Chris placed in the top 5 CEOs nationally after donating over $113,000, after Chris pledged to match ever donation dollar for dollar.
Despite being a virtual event this year owing to covid restrictions, Vinnie's set a new donation record with $9.4 million raised nationally.
Chris pledged that the following year, he would be the first Vinnie's CEO to raise over $250,000.
Chris' Second Vinnies CEO Sleepout
After raising over $40,000 the previous year, Chris and the Reventon team are determined to beat that, and this year manage to beat their target of $60,000, raising $60,564 for homeless Victorians, after Chris promised to match every dollar donation with 50c of his own money. This year Vinnies hit a new record of $7.87 million nationally.
Billie Joins Chris For His Third Vinnie's CEO Sleepout
After raising over $60,000 in 2019, this year Chris and Reventon manage to easily clear their target of $80,000 and raised $82,177 after Chris vowed to match ever dollar donated with 75c of his own money.
Matt Charles from We Gift Wrap worked with Chris to produce a song raising awareness of Chris campaign.
Accounting Strategies For All
A range of financial, accounting and property services are brought under the Reventon banner   
Preparation of Financial Report and Tax Return

 
Tax Planning 

 

Business Activity Statement, FBT Return, and Tax Instalment

 

Business Restructuring and Setting Up a new Entity
Reventon accounting is proud to provide the following services:
Preparation of Financial Report and Tax Return –

 

As part of our annual tax-related compliance work, our team is proactively establishing the best tax minimisation models for you, and also, ensuring tax compliance on your account.

 

Tax Planning –

 

Everyone need the ultimate planning and strategy in all parts of life, especially Tax. Our highly experience team will build a personalised  tax strategy and minimisation according to your situation and needs and ensure you a maximum advantages on any investment asset transactions.

 

Business Activity Statement, FBT Return, and Tax Installment –

 

Small business owners spend hours every week dealing with Tax Requirements (BAS, FBT, and Tax Installment) which is a valuable time that you could have spent growing the business and the profit. Let our expert team to take this hassle away from your shoulder so you can build a valuable business for your retirement.

 

Business Restructuring and Setting Up a new Entity –

 

Entity structure is one of the five foundations of a business. Our knowledgeable team will ensure you to have a solid foundation so you can focus on building a business on top of it. Your investment is your business too, don't overlook them.

 

Bookkeeping, Payroll, and other Business Compliance –

 

Our team takes ownership on anything that we do. We ensure high quality work and compliance in any levels of Accounting and Tax Regulations – ASIC Corporate compliance, workcover insurance, business-required licensing and insurances, Single Touch Payroll and payroll-tax, Superannuation Tax and Regulations.

 
Chris takes part in his first Vinnies CEP Sleepout. He exceeds his $40,000 target by raising $40,185 placing him 12th out of 1,462 CEO's nationwide and in the top $1% of fundraisers across Australia.
You can check out Chris' first ever LinkedIn post talking about his experiences on that first sleepout by clicking here. 
We're making some changes to our website and the content you are looking for is currently unavailable. Please check back later or book a free consultation by clicking on the button below.
Want a breakdown of your income tax?
Drag the controller for your income and discover your take home pay and tax rates.
Enter the property's value and state or territory to discover exactly which fees and charges you'll be required to pay.
Check out our other calculators too
Borrowing-power calculator
How much could you borrow on a home loan?
Enter your income details and spending habits to discover your borrowing-power on a future home loan.
Check out our other calculators too
Loan repayment calculator​
Want to work out your repayments on a home loan?
Enter the details of your loan and discover how much you'll be paying each month.
Check out our other calculators too
Have trouble sticking to a budget?
With the budget planner, you can log your incoming and outgoing expenses to keep track of your finances and set saving goals.
Check out our other calculators too