We help to create and grow real estate wealth. Simple.
Since 2005, we've helped over 3,200 Australians achieve their financial goals.
Whether you're a first-time investor or have an established property portfolio, our award-winning team of financial experts have the experience to support you every step of the way.
To serve, grow, protect and preserve the financial future and legacy of families under our care.
To become the first choice for Australian families in creating, building and protecting their wealth – now and for generations to come.
Our values are the essence of our identity and vital to our success and growth. All our company policies and decisions are guided by these values, and ensure we remain dedicated to our clients and our industry.
The Blueprint
Every good plan begins with drawing a blueprint, before you can put pen to paper though, you need to know exactly what kind of outcome you want.
The Foundation
Now that we know precisely what we want and where we stand, it is time to roll up our sleeves and get down to the serious work of wealth-building.
Bricks or Sticks?
With a foundation in place, it's time to decide on a building material.
Partner Up
DIY is great for many things, but brick by brick wealth-building isn't one of them.
Secure Financing
 A lot of first-time property investors jump the gun. You don't want to start looking at properties before you know exactly how much you are working with (can borrow).
Laying The Cornerstone
Your First Investment Property – The Reventon Criteria that we use to determine wealth-building.
Applying the Mortar
Minimising Tax and Maximising Security - No matter how careful you've been when selecting your cornerstone property, you won't be able to stack brick on brick on brick without applying mortar first
Brick on Brick on Brick
Building Your Property Portfolio and Your Wealth – Focus on the long-term goals by adding a second/third/forth/fifth property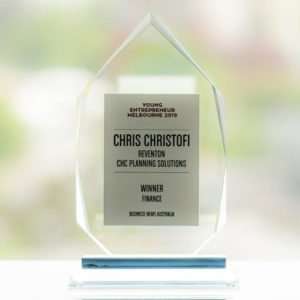 Chris Christofi has been named the winner of the Young Entrepreneur Award for Financial Services – for the second time in two years. The Melbourne Young Entrepreneur Awards are hosted by Business News Australia and recognise business leaders under 40 who are making an impact on the local and national economy.
&nbsp
Read more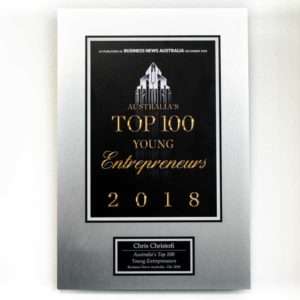 As described by Business News Australia, these young business-men and women are our future business leaders fuelling the nations vibrant business culture, making our local economies tick and inspiring us with their drive and innovation.
&nbsp
Read more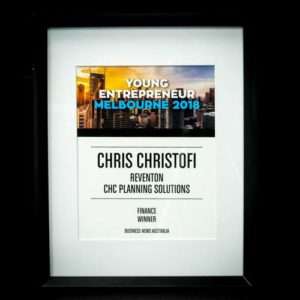 Hosted by Business News Australia, the Melbourne Young Entrepreneur Awards recognise business leaders under 40 making an impact on their local and national economies. Reventon is proud that our Founder and CEO, Chris Christofi received the Young Entrepreneur Award for Financial Services.
&nbsp
Read more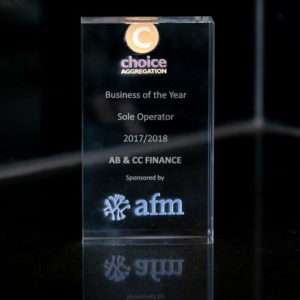 The Choice Aggregation Services Awards, hosted by one of Australia's largest brokers, are highly regarded in the financial sector for recognising exceptional service and talent. In 2018, Reventon was named Business of the Year for Best Practice, Customer Service and Volume Writers.
&nbsp
Read more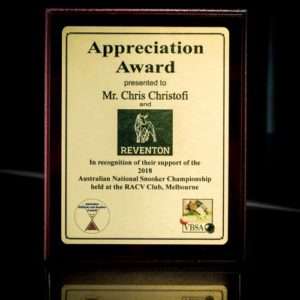 VBSA Appreciation Award
Reventon is a leading sponsor of the Australian Billiards and Snooker Council and the Victorian Billiards and Snooker Association. Our Founder and CEO Chris Christofi has been a longstanding ambassador of snooker, which has been recognised through the ABSC and VBSA Appreciation Award. President of the ABSC Frank Dewens noted, 'Reventon's sponsorship provides excellent opportunities for our players to earn more money from the game. This gives players the opportunity to compete and demonstrate their skills in a professional sense. The VBSA is always trying to grow our sport, and this is most helped by Reventon's sponsorship. Chris has been a massive support to the game'.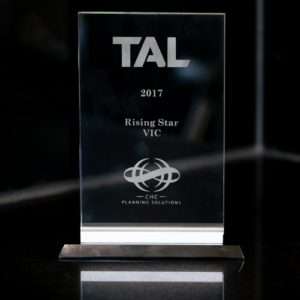 CHC Planning Solutions again submitted a large volume of new business. They continued to provide excellence to their clients by exceeding compliance requirements.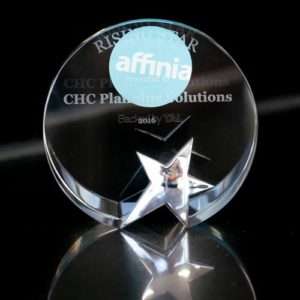 Affina Rising Star 2016 – CHC Planning Solutions
CHC Planning Solutions submitted the largest volume of new business whilst ensuring all compliance requirements and procedures are met and exceeded.
'We work tirelessly to create a positive experience for our clients as we help them to secure their financial future, so we're overjoyed to be recognised with these awards.
'We'll continue to secure opportunities for our clients and we send them our heartfelt thanks. Without them, this sort of recognition wouldn't be possible.'
Chris Christofi, Founder & CEO of Reventon